Though we are now part of ABNA, you may still contact NABA directly at info@NABAlongbeach.org
NABA Secretary: Allene Symons
https://www.instagram.com/friendsofmiracleon4thstpark/
https://www.facebook.com/profile.php?id=100084347839451
Monarch Waystation
presented by

Friends of Miracle on 4th Street Park

1518 E. 4th Street, Long Beach CA
On August 5 we enjoyed a
Celebration of Monarchs and Pollinators!
Waystation Update
November marks the end of monarch season in our area, as the butterflies will have migrated to over-winter roosting sites in California's central coast. They will return to us here in early spring!
Western Monarch butterflies are in decline, and as a community we are doing our part to help them survive and thrive.
In this planter box called a Waystation we are providing nectar plants for nourishment of butterflies (and other pollinators), along with native milkweed plants necessary for monarch reproduction.
Milkweed is the only host plant where monarch butterflies lay their eggs, its leaves are the only food its caterpillars will eat.
We also provide a wooden trellis by the planter box as a structure where a caterpillar might decide to form its chrysalis (but often they seek out a hidden place to make the pupa, and this chosen spot could be many yards away).
Every fall, monarchs migrate and hibernate (called diapause), forming clusters by the thousands on trees in specific areas For Western Monarchs this is mainly in California's Central Coast, while a larger migration from Canada through the Midwest travels to Mexico). This phase of the monarch's life cycle starts around October and continues through February or March every year.
Last updated October 25, 2023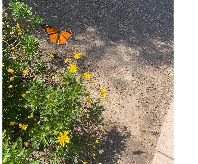 Planter boxes with milkweed and nectar plants
Fun games, ghost rock craft, costume contest and lots of treats!!!
Hope to see you there!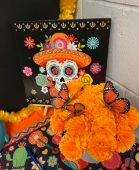 ABNA meets alternate months on second Thursdays from 7:00-8:30 p.m in the community room at Bixby Park
FOBP, ABNA & BPNA Present
Come to the Kids' Halloween
at Bixby Park!